The History Of The Cartier Love Bracelets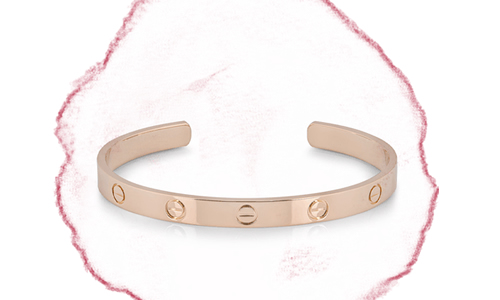 Most great jewellery and fashion houses have started from humble beginnings, and the iconic Cartier brand is no exception. Who would have thought that one man with a special set of skills could create fashion history? The Cartier brand is known the world over for producing the very finest jewellery the industry has to offer. It all started in Paris in the early 19th century, when Louis-Fran

The history of the
Cartier Love Bracelets
Most great jewellery and fashion houses have started from humble beginnings, and the iconic Cartier brand is no exception. Who would have thought that one man with a special set of skills could create fashion history? The Cartier brand is known the world over for producing the very finest jewellery the industry has to offer.
The beginning of cartier
It all started in Paris in the early 19th century, when Louis-François Cartier took an apprenticeship under master watchmaker Adolphe Picard. He worked in Picard's small store in the heart of Paris, and in 1847, Cartier bought the store from his employer and transformed the business in a very short space of time. Many influential members of Parisian society were impressed by the goldsmithing skills of Cartier. His jewellery and watches became much sought after, and this was the catalyst that allowed the Cartier brand to reach iconic heights.
The history of the love cartier bracelet
The Cartier Love Bracelet is one of the most famous pieces of jewellery ever crafted. It was designed by Aldo Cipullo in New York City and launched by Carter in 1969. Immediately, Cartier bracelets became very desirable and were coveted by the rich and famous. A Cartier Love Bracelet is probably equivalent in price to a high-quality second-hand car, which might seem a tad excessive for something so small. However, it is a symbol of sentimentality and minimalist art at its finest.
why the cartier love bracelet is so popular
The Love Bracelet's appeal is multifaceted, because it is simple, understated, and can be worn by men and women of any age. They are crafted in yellow, rose, and white gold, and there is now also an option to include diamonds instead of the signature screws.
‍
The design was inspired by the symbol of everlasting love and a locking mechanism. It is shaped in two C halves that are hinged together, and the clasp is secured with a specially-designed miniature screwdriver, which is included with each bracelet.
When the bracelet was first released, it was marketed as a purchase a couple could make to symbolise their love for each other. The idea was that they had to surrender their screwdrivers to each other once the bracelets had been locked. Celebrity couples, including Ali MacGraw and Steve McQueen and Elizabeth Taylor and Richard Burton, were each given a Cartier Love Bracelet as a high profile marketing ploy.
‍
Today, a Cartier Love Bracelet can cost over £3,850 and will hold its value. In 1969, when the Cartier Love Bracelet was first released, it was only made in yellow gold plating. The bracelets are now available in a range of gold hues, but the yellow gold remains the most sought-after and holds the highest resale value. Cartier now crafts Love Bracelets with diamonds and a combination of gemstones. These include bracelets lavishly decorated with amethysts and garnets, instead of the original screw design. There is also a new addition to the Love Bracelet that includes a self-fastening closure to represent independence.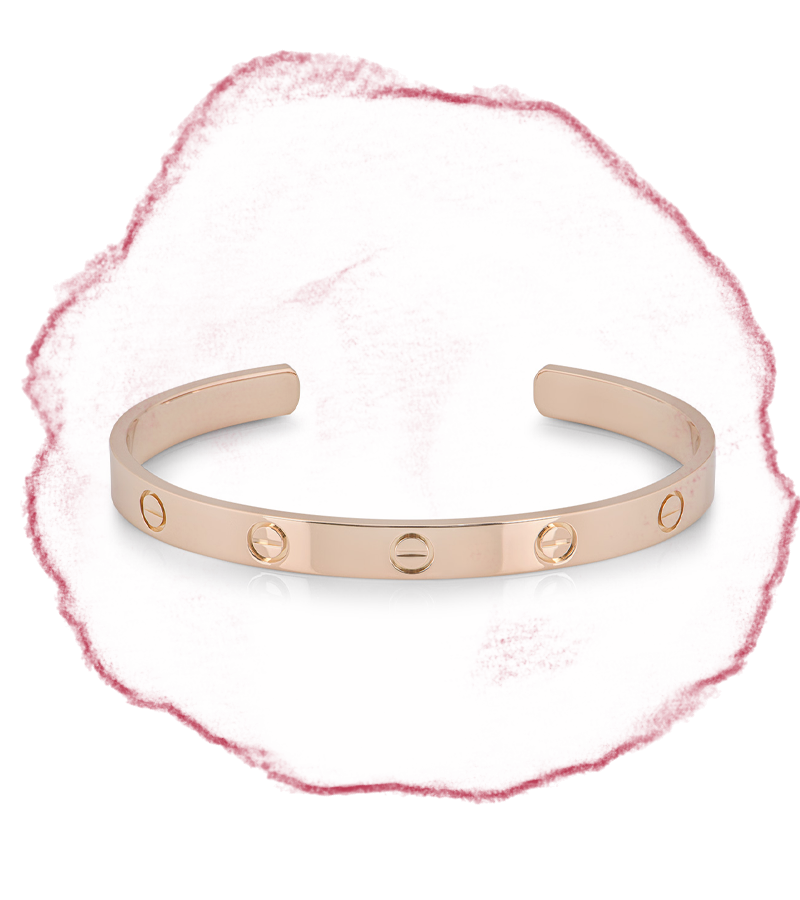 There have been many counterfeit Love Bracelets produced in recent years. Cartier now engraves a unique serial number on each piece which is kept on file at Cartier headquarters. Every Cartier Love Bracelet is also stamped with a "hallmark" to identify the quality of the gold. Naturally, Cartier only ever uses the finest quality of gold and platinum metals. The brand is also very meticulous with their quality control, and the screws of the Cartier Love Bracelet are always perfectly aligned.
‍
The Cartier Love Bracelet is a beautifully executed symbol of partnership and self-love, and a piece of jewellery that can be treasured forever.