The Best of the Best - Celebrity Engagement Rings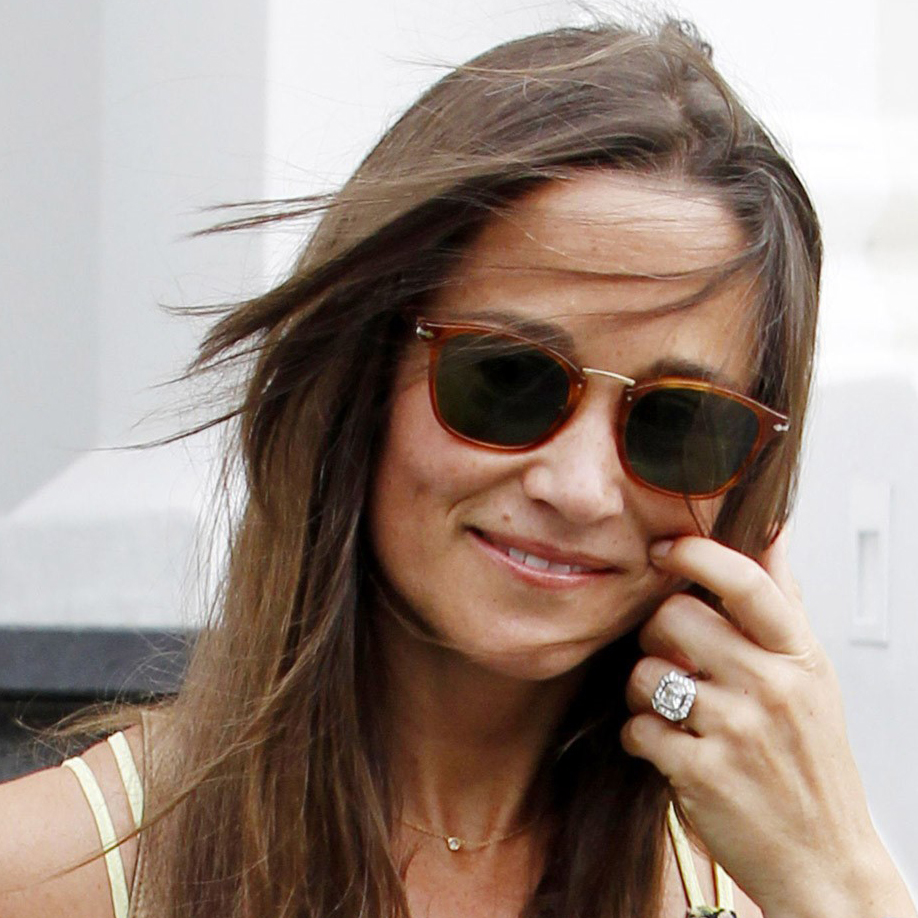 Photo Credit: Evening Standard
Celebrities sparkle, and no more so when they are newly engaged. Celebrity engagement rings often make headlines in news outlets and glossy magazines around the world.

It goes without saying, when you combine the most romantic gesture in the world with a high-profile person, the result in the media is often explosive!

Here at Rich Diamonds, we have put together six of the most glamorous celebrity engagement rings in recent years alongside dazzling 'get the look' pieces from our Bond Street showroom.

The Wedding of The Season

Following in her big sister's footsteps, Pippa Middleton is the next of the Middleton clan to marry. While Kate's wedding was considered 'The Wedding of The Century' Pippa is not far behind with the 'Wedding of the Season!'

Pippa's diamond ring, courtesy of her husband-to-be James Matthews, is estimated to have cost up to £200,000. The Art Deco-inspired ring features a stunning 3-4 carat Asscher cut diamond surrounded by a halo of channel-set diamonds.

We have a beautiful 18k white gold asscher cut diamond ring fit for a royal-in-law. The ring is set to the centre with a 1.71ct asscher cut diamond, set within a classic four claw setting. The central stone is accentuated by diamond set shoulders composed of 12 princess cut diamonds.

A Princess Fairytale

When Kate Middleton and Prince William were engaged, we couldn't help but admire the familiar blue sparkler that adorned her engagement finger; the ring has made its way through the blue blood. The 12-carat sapphire first appeared on Princess Diana of Wales' hand when she was engaged to William's father, Prince Charles.

After it made its way to Kate, the ring's worth had increased from $47,000 to an incredible $500,000. While this family heirloom might not be the most expensive ring on the list, it's sentimental value is worth everything and more.

Who wouldn't want to feel sophisticated like The Duchess of Cambridge? Rich Diamonds have the perfect sparkling solution - A stunning 18k white gold sapphire and diamond set dress ring. The ring is set to the centre with a 2.51ct oval cut sapphire, accentuated by a halo of round brilliant cut diamond and half pave set shoulders A truly royal ring.
https://www.richdiamonds.com/product/18k-white-gold-sapphire-and-diamond-dress-ring/5774

A Real Life Rom-com

Blake Lively has developed a very stylish reputation for herself when it comes to accessorising. The award-winning actress has rocked many unforgettable pieces on the red carpet, but her 10-carat pink oval diamond engagement ring continues to steal the show. Her then beau, Ryan Reynolds, reportedly splashed $3 million on the showstopper. Surrounding the perfectly pink rock are tiny stones for extra sparkle.

If you desire an extravagant yet intricate engagement ring, you are not alone. Luckily, Rich Diamonds have the perfect match. An exquisite diamond ring in platinum by Boodles set to the centre with an oval cut diamond, the ring showcases diamonds at their best. Set around the central diamond is a delicate halo of pave set round brilliant cut diamonds leading onto a diamond set collet and shoulders, beautifully matched in colour and clarity.
https://www.richdiamonds.com/product/boodles-oval-cut-diamond-ring-in-platinum-3-02ct-d-vs2/2952

Keeping Up With The Kardashian Carat

Known for her trendsetting ways, Kim Kardashian stopped at nothing to have the most beautiful and expensive celebrity engagement ring and even upgraded her first engagement ring from Kanye West with an even bigger, better diamond.

Worth an estimated 3 million, Kim's original 15-carat cushion cut rock designed by jeweller Lorraine Schwartz suited her lavish lifestyle faultlessly. After a few years, Kim swapped the ring with an almost identical diamond, only this one totalled at 20 carats, estimated to be worth a whopping 4.5 million.

Although it may seem impossible to find a ring as breathtaking as Kim's, we have one just as charming. The exquisite diamond ring by Cartier will have heads turning. The emerald cut diamond is complemented by two trillion cut diamonds, both well matched in colour and clarity.
https://www.richdiamonds.com/product/cartier-emerald-cut-diamond-ring-in-platinum-5-03ct-f-vs2-b-p/2680

A Magical Movie Moment

After George Clooney bid farewell to his bachelor lifestyle, he sealed the deal by proposing to Amal Alamuddin with this phenomenal 7-carat emerald cut stone set in platinum, worth $650,000, suiting Amals elegant appearance flawlessly.

This 18k white gold emerald-cut diamond ring is set to the centre with a stunning emerald cut diamond, set within a four claw setting. Effortlessly ravishing.
https://www.richdiamonds.com/product/18k-white-gold-emerald-cut-diamond-ring-1-50ct-g-vs1/5458

Like a Love Song

There is nothing quite like presenting heart shaped gifts to your loved ones on Valentine's Day, but a heart shaped diamond, however, would make anyone go gaga!
Lady Gaga may not have made it down the aisle and said 'I do', but she did say 'I will'' to Taylor Kinney when he proposed with this heartwarming, six carat heart-shaped diamond ring by Lorraine Schwartz.

The $500,000 ring design also included a micro-pavé platinum band, engraved with "T ♡ S," which stands for the pairs first names. How romantic!

Express your love with this 18k white gold heart shape diamond halo ring. The ring is set to the centre with a heart shape brilliant cut diamond set within a classic 3 claw setting. The centre stone is complemented by a pave set, round brilliant cut diamond halo cluster and pave set.


https://www.richdiamonds.com/product/18k-white-gold-heart-shaped-diamond-ring-1-25ct-g-vvs2/5364

Did something catch your eye? With jewellery for every occasion, complete your look with help from Rich Diamonds. We also have a selection of wedding and eternity bands for those of you who are already engaged. Call the showroom on 020 7491 0042 where one of the team can assist you.