The 2017 Oscars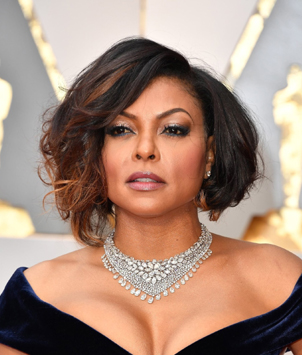 The Oscars is the penultimate ceremony of the red carpet awards season, so we might have guessed that we would witness the best of the best; diamonds, rubies and all.
It comes as no surprise that celebrity fashion proved more glamorous than ever, with a hint of old Hollywood nostalgia. Below, we have some of the most iconic highlights from the anticipated evening.
We've sourced alternatives from our collection inspired by the star-studded evening so you too can get the leading look.
Bold Statement Necklaces.

Bold statement necklaces were foremost at this year's celebration, with most stars opting to wear the new fashion trend on the Oscar's carpet.
Taraji P. Henson stood out from the crowd, wearing a breathtakingly bold diamond necklace by Nirav Modi, which accentuated her cleavage-baring gown beautifully.
Our exquisite 18k White Gold and diamond necklace from the Cartier Mallion collection is the perfect alternative to Taraji's with diamonds totalling 1.00ct.
https://www.richdiamonds.com/product/cartier-18k-white-gold-diamond-set-maillon-necklace/2247
Red for Ruth
Ruth Negga painted the town red in this stunning red Valentino gown with ruby jewels by Irene Neuwirth to match. The red show stopper matched her blue ACLU ribbon wonderfully.
Ruth indeed made the statement of the evening, and with this exquisite ruby and diamond necklace by Garrard c.1996, you can too. The centre of the necklace features a graduated scroll design and is comprised of 151 rubies, each intricately set in 18k yellow gold.
https://www.richdiamonds.com/product/garrard-18k-yellow-gold-platinum-burmese-ruby-diamond-necklace/1561
Model to Movie Star
Karlie Kloss owns the runway, and the same could be said for her red-carpet appearance. Flawlessly gorgeous. The stylish model looked phenomenal as always in her Stella McCartney white gown, bringing the runway trend of chokers to the Oscars.

If like Kloss, you're looking to create an all white statement, consider this stunning 18k white gold diamond and pearl necklace by Chanel. The necklace comprises of 199 individually knotted cultured pearls.


https://www.richdiamonds.com/product/chanel-18k-white-gold-diamond-and-pearl-necklace/7116

Golden Gucci
Dakota Johnson stepped up a level of sparkle in her golden custom Gucci gown. With jewels flown in from the Cartier Paris archive collection for the occasion: a 1958 baguette-cut diamond necklace coupled with ruby-and-gold cocktail rings from the 1940s for added sparkle.

For the perfect dupe to Johnson's 50 shades of gold, we have an 18k yellow gold roman coin necklace.This fascinating necklace is composed of an ancient Roman coin set to the centre of a triangular design, accentuated by a cluster of round brilliant cut diamonds and cabochon rubies at each point.
https://www.richdiamonds.com/product/18k-yellow-gold-ruby-diamond-set-roman-coin-necklace/2443
Show-Stopping Earrings.
Earrings were also prominent, ranging from beautiful drop styles to dangling layered pieces and some that made a significant statement in size.

Leading Lady
Emma Stone stole the show, not just by winning Best Actress among other awards, but by wearing a show-stopping custom Givenchy haute couture dress, adorned in Tiffany & Co. "Whispers of the Rain Forest" earrings in platinum and 18k gold from the 2017 Blue Book Collection.

We have this striking pair of 18k yellow gold diamond set drop earrings from the Cartier Draperie collection. The main body of the earrings are composed of a circular motif, intermittently set with round brilliant cut diamonds. Perfect match.
https://www.richdiamonds.com/product/cartier-18k-yellow-gold-draperie-diamond-set-drop-earrings/3121

A Delicate Drop.
Nicole Kidman never fails to impress on the red carpet. This year the star wore a nude embellished Armani Prive gown accompanied by 119 carats of Harry Winston jewels. Kidman brought colour to the carpet with her magnificent ruby and white gold drop earrings.

We have this stunning pair of Theo Fennell 18k yellow gold diamond and emerald drop earrings, the perfect twist on Nicole's elegant look.
https://www.richdiamonds.com/product/theo-fennell-18k-yellow-gold-diamond-and-emerald-drop-earrings-1-90-g-vs/7315

Diamonds in Dior
Charlize Theron was the talk of the evening when she blinded paparazzi with some of the biggest, dazzling diamonds we've ever seen. Charlize Theron wore a pair of statement earrings by Chopard to compliment her stunningly simple Dior gown. The earrings did all the talking!

This elegant pair of diamond earrings of girandole design c.1950 from our collection will turn heads with their perfect diamond drop. Each earring is set with four round brilliant cut diamonds between 0.20ct-0.90ct, grain set with smaller diamonds in Platinum. So much sparkle - Ideal for such a glamorous ceremony!
https://www.richdiamonds.com/product/diamond-drop-earrings-in-platinum-c-1950-3-60ct-g-vs2/4741
If you want a less classic look, for a slightly more daring drop consider these platinum diamond set earrings from the Boodles Cabaret collection.
https://www.richdiamonds.com/product/boodles-diamond-set-cabaret-hoop-earrings-in-platinum-2-56ct/2031
Making a Statement.
Despite all the stunning statements we saw yesterday evening, the accessory of the night at the Oscars was neither a designer dress nor a pair of dangling diamonds. It was the blue American Civil Liberties Union (ACLU) ribbon.

For those outside the USA, these ribbons are part of the "Stand with A.C.L.U." initiative. The non-profit association saw a huge number of donations after the announcement of the travel ban by the current US administration. By wearing the pin, the celebrities are showing their support "for the rights and civil liberties guaranteed by the Constitution to everyone in the United States." Without a doubt, the baby blue pin beautifully suited everyone's attire.

With jewellery for every occasion, complete your look with help from Rich Diamonds. Call the showroom on 020 7491 0042 where one of the team can assist you.