Jewellery News from the CMA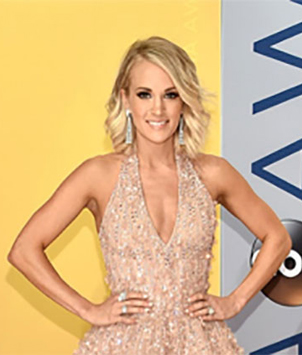 This week our top jewellery news focuses on the dazzling Carrie Underwood and her breath-taking wardrobe choices, as she co-hosted the 2016 Country Music Awards for the ninth year running.
The singer surpassed herself at the 50th annual show, making a huge fashion statement, 12 times in fact! Cementing her status as both music and fashion icon; she wowed the audience with one faultless look after another.
Underwood stated the genius reason behind each look to People Magazine: "I thought since it's the 50th anniversary, why not kind of go back to the beginning?" Underwood said. "The first CMA awards were in 1967, so it caught the tail end of '60s fashion there. And the '60s are all very like Tammy Wynette-inspired, Loretta [Lynn], lots of sequins, things that look a little more vintage."
The singer stunned fans when she made ther first appearance of the night on the red carpet in this dusty pink Michael Cinco halter gown with Swarovski crystals, which matched perfectly with the triangle shaped Butani diamonds dripping from her ears.
The star's looks took inspiration from five decades of the CMA Awards, starting with her jaw dropping 1960's look, a green gown embellished with pretty pink roses. The dress was accessorised with a gorgeous gold brooch, shining the spotlight on this classic accessory and making it relevant in 2016.
Opening the show with one of our favourite looks, Underwood paid homage to the 70's with a long, loose-fitting gown dripping in gold and diamonds. She kept her accessories to a minimum, opting for a glistening pair of dangling diamonds.
Just when we thought it couldn't get any better, fringe embellishments made yet another appearance in the form of Carrie's 80's tribute. A sparkling black mini designed by Elie Madi, which she paired beautifully with both silver and gold accessories!
The country beauty slipped into a fabulous replica of Reba McEntire's famous red dress that made headlines in the 90's. While it wasn't quite as audacious as McEntire's, her doting fans adored it. The beaded red Mac Duggal design perfectly complimented by incredible Joan Hornig Stone Drop Earrings.
Underwood's nod to the noughties came in the form of a mini, gold cape dress. She wore the dress to sing with Lee Greenwood and then removed the cape creating a different look to accept her Female Vocalist of the Year Award.

While there were still another seven looks, these were just some of the sparkling statements we just had to mention. Feeling inspired? Channel your inner Mrs Underwood with some of Rich Diamonds most award-worthy pieces.
60's
Remember the 60's by making one of the most anticipated comebacks in jewellery history. The brooch is back and what better way to celebrate than wearing one like Underwood's fabulous 60's style accessory. This beautiful blue sapphire and citrine floral pendant/brooch is from the Van Cleef & Arpels Hawaii collection.
70's
The 70's were full of glitz and glam. Relive the disco years with a pair of dazzling 18k white gold round brilliant and princess cut diamond drop earrings.
80's While the rest of Carries 80's accessories were gold, her dramatic silver dress ring caught our eye. Get the look with an 18k white gold diamond set dress ring by Van Cleef & Arpels.
90's
Her 90's style proved most extravagant, with a pair of big golden drop earrings. You can re-create a similar look with a pair of 18k yellow gold diamond set drop earrings from the Tiffany & Co Schlumberger collection.
2000's Last but by no means least! Carrie's golden cape gown was perfectly paired with simple earrings and a beautiful and bulky dress ring that we have most certainly fallen for. For a more exotic look, Cartier's pair of elegant 18k yellow gold diamond and pearl earrings will do the trick.
To replicate our favourite piece, an 18k yellow gold dress ring by Theo Fennell is the perfect choice to take centre stage.
With jewellery for every occasion, complete your look with help from Rich Diamonds. Call
the showroom on 020 3504 4197 where one of the team can assist you.