Cartier rings - Their History & Magnificence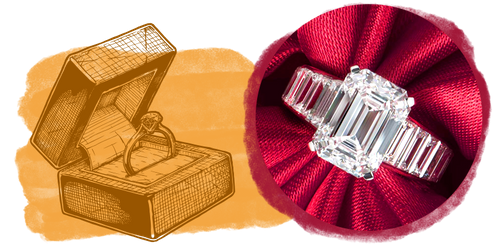 Cartier has become synonymous with exquisite gems, breathtaking designs and superb craftsmanship since its inception in 19th century Paris. In particular, Cartier rings have achieved iconic status with their sophistication and shine, helping to boost the brand's value to an estimated £7.3 billion today.

Cartier Rings:
Their History And
Magnificence
Cartier has become synonymous with exquisite gems, breathtaking designs and superb craftsmanship since its inception in 19th century Paris. In particular, Cartier rings have achieved iconic status with their sophistication and shine, helping to boost the brand's value to an estimated £7.3 billion today.
‍
When it comes to curating a luxury jewellery collection that will last a lifetime, choose items that never go out of style. Cartier jewellery fits the bill in every way when it comes to producing timeless classics that have always been highly collectable. Before we look at the brand's opulent ring collection in more detail, let's take a step back in time to recount its remarkable heritage. From Cartier's humble beginnings in a watchmaker's workshop in 1847, the brand's journey spans more than 170 years to date.

A History Of The Luxury Brand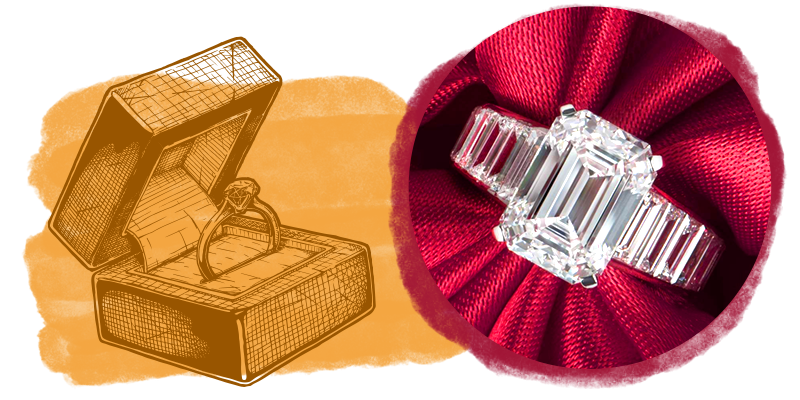 The history of Cartier is an interesting one. As a young man, Louis-Francois Cartier was an apprentice watchmaker, learning his trade from master watchmaker Adolph Picard at his workshop at 29 Rue Montorgueil, Paris. Cartier inherited his employer's workshop in 1847, when he was 29 years old. He had big ideas and aimed to expand the business, making fine watches and luxury jewellery. With his skill, drive and ambition, the Cartier brand's reputation began to spread. Princess Mathilde of France became Cartier's first aristocratic customer in 1856, giving the royal endorsement to the brand.
‍
Cartier opened a chain of boutiques across Paris and the social elite, wishing to emulate Princess Mathilde, flocked to purchase exclusive Cartier jewellery and watches. In 1874, Louis-Francois' son, Alfred, took over the family business. He was joined by his own three sons, Jacques, Louis and Pierre. The three brothers propelled the company to international acclaim in the early 20th century. Together, they expanded the family empire into the global market in 1902, opening a boutique on New Burlington Street, London. Today, Cartier is now present in 60 countries and has more than 200 boutiques.

What Were The First Cartier Rings?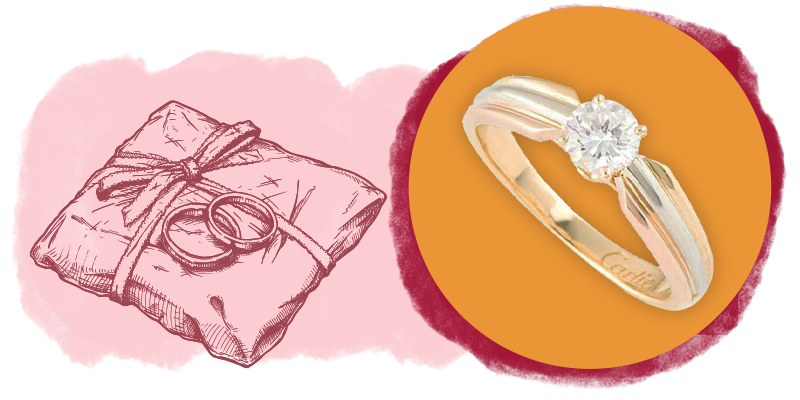 While Cartier was renowned for its luxury watches, thanks to the release of its pioneering Santos de Cartier pilots' wristwatch in 1904, its magnificent jewellery range was also a major factor in the brand's success. In addition to high-quality wristwatches, Cartier's expansion into creating rings, necklaces and brooches, bracelets and bangles and other opulent items sealed its status as a master jeweller.
‍
The highly desirable Cartier rings are famous for their innovative designs. Over the years, Cartier's jewellery collections have become household names, with the exclusive selection of elegant Cartier gold and precious metal rings standing the test of time.
‍
The first of many collections, the fabulous Cartier Trinity Ring dates back to 1924 and remains as popular today as it was almost a century ago. Known as the "Cartier three-ring", it was designed by Louis Cartier's good friend, the French painter, poet, writer and film-maker Jean Cocteau.
‍
The Trinity ring features three interlocking rings, with each ring representing something different. The Cartier gold ring signifies fidelity, the rose gold ring represents love and the white gold ring marks friendship. It also has a tasteful dusting of diamonds, producing a luxurious and meaningful ring.

What Are Cartier's Signature Rings?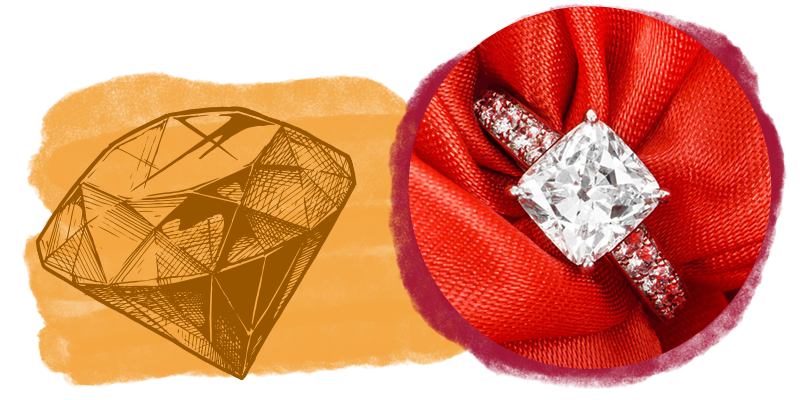 From the first Trinity rings collection, Cartier's signature ranges have included many beautiful statement rings. From the Cartier Panther ring in 1935 to the Cartier Love Ring, earrings and bracelets in the late 1960s, every collection achieved global acclaim.
‍
The collection received a new spin, starting with the unusual Cartier Nail Ring collection in 1971 and continuing through to the Clash Cartier Ring collection of 2019.
‍
These two collections retained the detail, luxury and precision of the early Cartier rings, while modernising the whole outlook. Cartier rings, from engagement rings and wedding rings to unique gifts, have remained the top choice for collectors and luxury jewellery lovers for almost a century.

The Cartier Panther Ring Collection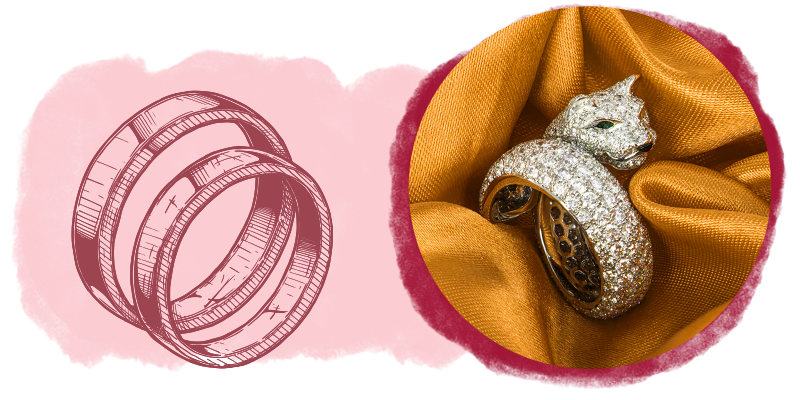 Cartier rings make up the most enigmatic and magnificent ring collections in the world. The brand has many different collections, dedicated to engagement rings, wedding rings and statement rings.
‍
Customers can choose from many designs, from the simple and classically beautiful Cartier band rings to the diamond-encrusted love rings. The one thing prevalent in all the Cartier rings is their instantly recognisable design.
‍
Animals have always played an integral role in Cartier designs. Most specifically, the panther has come to symbolise the brand. This dates back to 1914, when Louis-Francois Cartier had a unique art piece custom-made, featuring a panther and a beautiful woman.
‍
He used this as a source of inspiration for a unique Cartier wristwatch. However, the design went much further than timepieces when the brand created the famous Panthere De Cartier Ring. The "La Panthere" name was coined in 1918 by Cartier's new creative director, Jeanne Toussaint.
‍
She created many big, bold pieces for the groundbreaking Panthere de Cartier Collection. In 1935, Cartier launched the first Panther ring featuring bright colours and contrasting dark enamel. This has continued to be one of the company's most popular and iconic collections in the 21st century.

Cartier Juste Un Clou Ring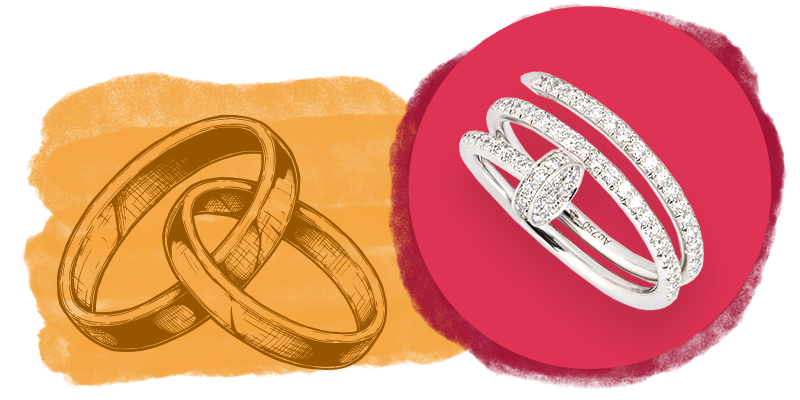 The name of this iconic piece translates to "just a nail" and the ring's unique design remains true to its meaning. The Cartier Juste un Clou Ring is the modern version of the famous Cartier ring released five decades ago.
‍
Originally designed by Aldo Cipullo and first released in 1971, the Juste un Clou collection was an instant hit. The new nail-themed ring was released in the early 2010s. The collection includes necklaces, earrings and cufflinks, all perfectly complementing the standout Cartier band.
‍
Today's gem-studded variations of the Cartier Nail ring, with various yellow, white and pink gold designs, have given the collection a modern outlook that greatly appeals to collectors.

Cartier Love Ring
Cartier Love rings are available in different shades of gold and boast various design features, making them a classic choice for everyone. The range is a symbol of love and free spirits, symbolising 1970s New York. Its binding closure and motif represent permanence and "locking in" the wearer's love forever.
‍
Cartier Love rings are often used as a wedding band. Both the Love bracelet and ring have the same meaning: true love and faithfulness.

Clash De Cartier Ring
The Clash de Cartier range of rings and fine jewellery is Cartier's latest collection. It comprises a luxurious and fun series of rings, bracelets, necklaces and much more. Released in 2019, the collection is vintage-inspired with a modern twist.
‍
While the bold use of studs and beads goes back to Cartier's designs in the 1930s, it is modernised to emphasise contrasts, harmony and duality. Although a relatively new collection, the catalogue is fast becoming highly desirable to collectors. The Clash collection offers both masculine and feminine elements.

Cartier Engagement & Wedding Rings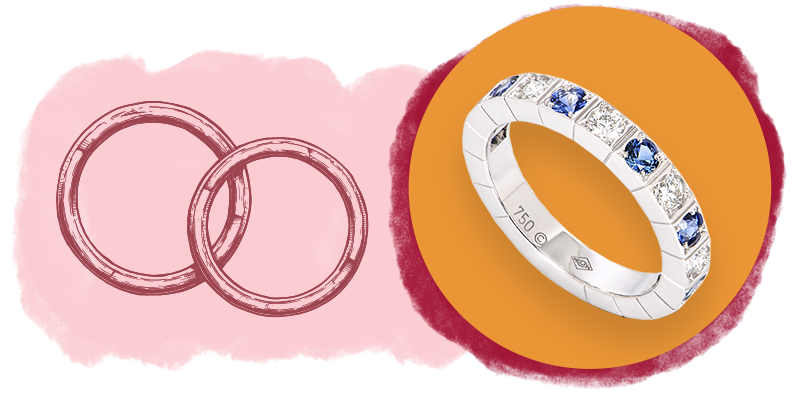 Cartier has consistently created desirable designs for wedding rings and engagement rings. The brand has positively shaped the face of wedding and engagement rings, catering for both womens and mens rings which exude timeless elegance and sophistication. Cartier stocks a broad selection of elegant wedding rings, including those from some of the brand's signature collections. For example, the Trinity ring is also known as the Cartier Russian wedding ring.
‍
It has become Cartier's most quintessential wedding ring, representing true love and commitment. Cartier offers many different variations of this design, because it is so popular.
‍
The Cartier Love band ring is the perfect choice for a wedding ring, as a result of the collection's meaning. The Cartier D'Amour collection features minimalist and simple wedding bands that complement perfectly a Cartier engagement ring studded with gems. The Love Cartier ring, with a statement small or large diamond, is ideal as an engagement ring, while a Trinity Solitaire ring, featuring triple gold bands and one diamond, provides a truly unique engagement ring.
‍
The majority of Cartier jewellery pieces like their beautiful engagement rings boast prominent diamond embellishments adorning thin bands. Similar to the Etincelle de Cartier range, the engagement rings, with their precious gems on the band, feature a statement square-cut or pear-shaped diamond.
‍
Cartier has dominated the luxury high end jewellery sector for decades and looks set to continue to hold this honour in years to come as one of the most respected and trusted jewellery brands in the world.

Where To Buy Cartier Jewellery