A Guide To Diamond Jewellery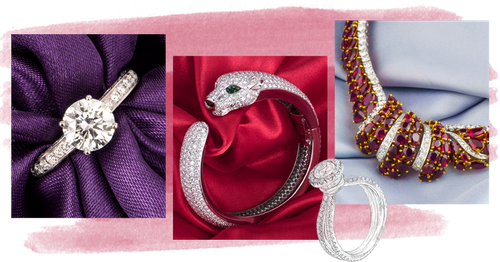 When it comes to buying diamonds, it is imperative that you do your research first and make sure that you are getting what you want and keep them in good condition, to preserve the quality of the diamonds. Here we have a guide on how to do just that.
Diamond Types & Shapes
First and foremost, you should know what type of diamond you want to buy. Whether you are purchasing a diamond engagement ring or a diamond wedding ring, you should be aware of what you're looking for before you even step foot into a jewellery store.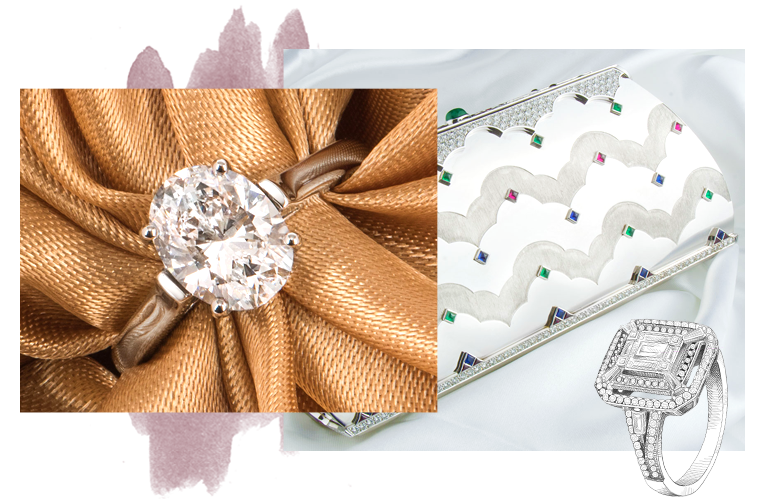 When choosing a diamond, consider the 4 Cs: Cut, Clarity, Carat, and Colour. Diamonds come in a range of colours, pink, white, yellow, purple and so on, so you should be able to choose a diamond to create a ring for a unique recipient.

Diamonds are cut into several shapes: round, oval, heart, pear, trapeze and baguette, which are all self-explanatory and shaped as they are described. Princess cuts are square, emerald is long and rectangular, the cushion cut is a square or rectangle with rounded corners, and marquis is a pointed oval. The cut of your diamond is completely dependent on the person wearing the diamond engagement rings and their own personal preference and style.
The Buying Process
Going into a shop to purchase a diamond can be stressful since it's a large financial decision. Knowing the 4 Cs of diamonds can really help in feeling confident in communicating with the sales staff.
Here are some tips: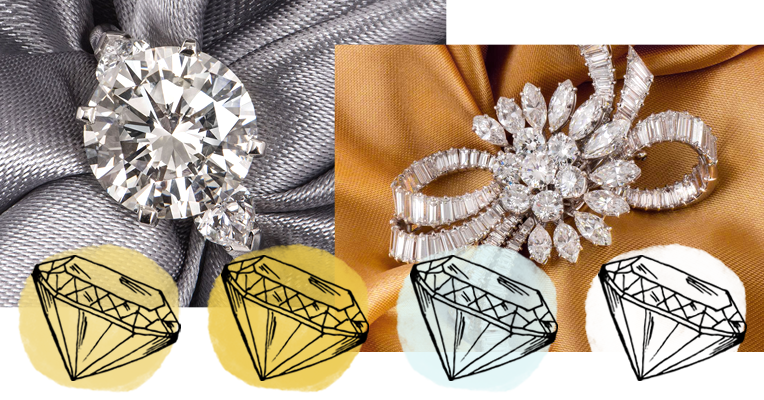 Colour
Because diamonds come in many colours, let us consider diamond engagement rings and diamond wedding rings, which are usually colourless. The more colourless a diamond is (D), the more expensive a diamond can be. The more yellow it is (S-Z), the least expensive or desirable it is. Having said this, if a diamond is natural fancy yellow, they can be very desirable and found to be more expensive.
Clarity
Diamonds come from nature, meaning that they are not perfect. The more "birthmarks" and imperfections it has, the less it is worth. These can be very difficult to see with the naked eye, so be sure to use a magnifying glass. Your jeweller should also be able to provide you with a value on an 11 point scale from Internally Flawless to I3.
Cut
Determining the cut of the diamond is the most difficult part of evaluating the 4 Cs because it's a very technical process that requires expertise and a good eye. What you're looking for here are symmetry and clean lines.
Carat
This is the actual weight and size of the diamond. This is determined by your price point but can be discussed if you're willing to sacrifice on one of the other Cs.
Knowing what you want before you enter the store (with a range of options for yourself, just in case) is the key to your success. Arm yourself with knowledge and be sure to ask many questions. A similar evaluation process will be taken when/if you choose to sell your diamond, so ensure you pay attention to the evaluation process.
Keeping Diamonds In Good
Condition
Once you've gifted the diamond, you will want to be sure that it's well taken care of. You can take your diamond ring to a jeweller for a good clean twice a year, ensuring that a professional is cleaning it properly and looking it over. This is a good chance to get diamond wedding rings re-sized.